The ASBA Awards Programs recognize both individuals and whole boards for their continuing education and pays tribute to entire boards whose members have all attained specified training development levels. ASBA also awards special recognition annually to two boards and one individual whose dedication and ethical service have made a positive and notable impact on the students in their districts.
Individual Member Development Award Program
The deadline for submitting hours to receive individual boardsmanship awards is four weeks prior to the ASBA Annual Conference.
Members complete progressive levels of training to enhance boardsmanship skills and earn hours through board development activities. The recognition levels of authorized activities are:
Outstanding Board Member (only members elected before January 1, 2018) - any 25 hours of ASBA training credit

Certificate of Boardsmanship (only for members newly elected after January 1, 2018) – at least 25 hours of ASBA training credit and must include the following:

6 hours of the ASBA New Board Member Institute

3 hours of ASBA Regional Meeting

2 hours additional ASBA hours in each of the following areas: Finance, Governance, Legal, and Student Achievement (academic programs/needs, understanding data, etc.)

8 additional hours of ASBA electives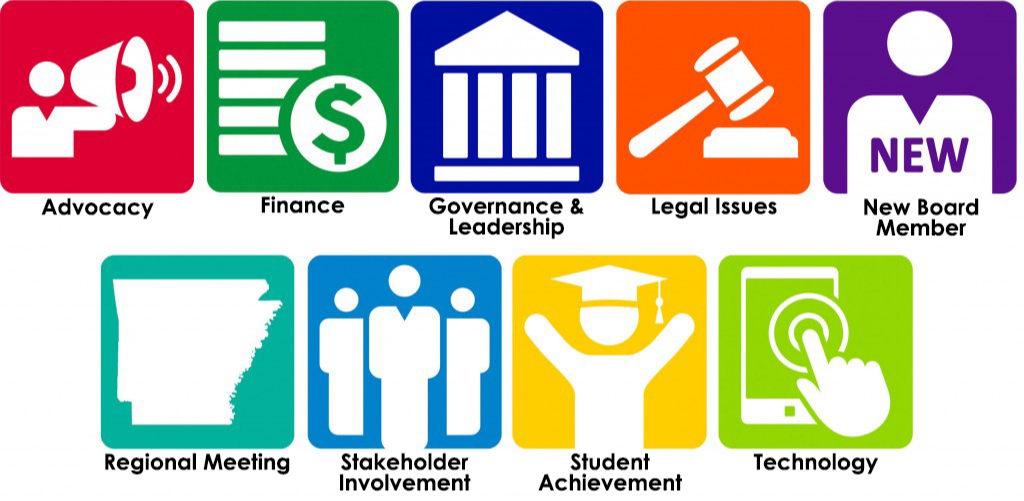 Members elected after January 1, 2018, must earn a Certificate of Boardsmanship before being eligible to earn any of the following awards, regardless of total number of hours earned:

Master Board Member – at least 50 hours

Pinnacle Award – at least 200 hours

Platinum Award – at least 400 hours

President's Award – 500 hours or more

ASBA School Board Service Award – 30 or more years of school board service
ASBA tracks board members' participation in ASBA and NSBA events, and The Southern Region Leadership Conference. ASBA also records the hours earned and notifies board members when they achieve any of these six recognition levels. Each school district must notify the Arkansas Department of Education at the end of each calendar year regarding each school board member's earned training credit toward the state-mandated requirement. ASBA's online eMembership system assists districts in keeping records, but the district is responsible for maintaining official board training records.
Whole Board Award Program
This program recognizes achievement in education excellence and ethical service to students. Boards accomplish this through a shared vision, team effort and unified commitment to ensure the best possible climate and education opportunities in their communities. These two levels of awards go to entire school boards, rather than individual members.
Outstanding Board – earned when all members have achieved the individual Outstanding Board Member award and/or the Certificate of Boardsmanship

Master Board – earned when all members have achieved the individual Master Board Member award. The Master Board receives a commemorative plaque. After winning this award, the school district's board is not eligible for this award again for at least five years.
School Board of Excellence in Leadership
This award recognizes school boards whose dedication and ethical service have made a positive impact on the students in their district. Districts will be chosen based on evidence from each of the following eight (8) criteria:
The board's support for educational performance

Support for educational improvement projects

Commitment to a code of ethics

Maintenance of harmonious and supportive relationships among members of the board

Functions as a policy-making body with adherence to adopted policies

Provision of financial support for the school system

Participation in workshops and other performance improvement programs

Public relations efforts, including community awareness

Two awards may be bestowed each year:
1 school district under student enrollment of 900

1 school district above student enrollment of 900

Each award will be based upon a board's performance over the school year immediately prior to the year in which the award is granted.
Dr. Daniel L. Pilkinton Award for Outstanding Service to Public Education
This honor is awarded to outstanding individuals who have made substantive contributions to public education. This award is presented at the Annual Conference in December.
ASBA Educational Foundation Scholarship Program
ASBA awards scholarships to graduating high school seniors who are children of Arkansas school board members and who will attend Arkansas institutions of higher learning in the fall. The awards are based on a student's academic record and leadership potential. One award is made in each of the four congressional districts. The J.K. Williams Memorial Scholarship, established in memory of former ASBA Executive Director J.K. Williams, is awarded to a student pursuing an advanced degree in the educational field.