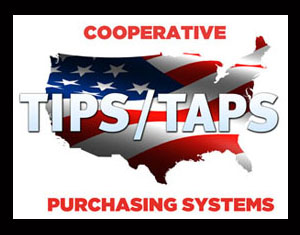 The Texas-Arkansas Purchasing System (TAPS) is a consortium of popular national vendors who agree to provide strong purchasing power to public and private schools, colleges, universities, cities, counties and other government entities in Arkansas. The Arkansas Department of Finance and Administration has acknowledged that TAPS meets requirements for state agency, school, municipal, county and higher education purchases (DF&A memo).
TAPS can provide your institution with significant savings on everything from pencils and paper to classroom technology equipment to construction projects. Before you sign another purchasing contract, check the TAPS product and vendor list at www.tips-usa.com.
Program benefits:
No fees to join TAPS

No additional purchasing fees or hidden costs

No obligation to purchase

Popular name brand products through national vendors

Deep purchasing discounts

Buy direct without a lengthy bid process (state authorized)

Joining TAPS is a two-step process. First, your board of directors must approve a board resolution and an interlocal purchasing agreement. Next, you must submit the signed documents to the Dawson Education Service Cooperative in Arkadelphia, AR, which sponsors TAPS in Arkansas.
Dawson Education Cooperative
711 Clinton Street, Suite 201
Arkadelphia, AR 71923
(870) 246-3077
www.dawson.dsc.k12.ar.us
Once the agreement has been approved, you can begin extending your purchasing power from TAPS-approved vendors.
Please contact Mickey McFatridge at (870) 926-9250 for more information about TAPS. Additionally, you may visit the TAPS website to search for products and vendors.